Page 9 - Why List With Harry Kolb ~ Montecito Realtor with Sotheby's
P. 9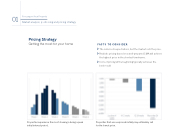 01
Focusing on Your Property
Market analysis, positioning and pricing strategy
Pricing Strategy
Getting the most for your home
FACTS TO CONSIDER
The seller sets expectations, but the market sets the price. Realistic pricing based on a well-prepared CMA will achieve
the highest price in the shortest timeframe.
Correct pricing at the beginning typically achieves the best result.
Properties experience the most showings during a peak initial interest period.
Properties that are overpriced initially may ultimately sell for the lowest price.