Page 10 - Why List With Harry Kolb ~ Montecito Realtor with Sotheby's
P. 10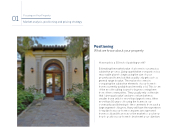 01
Focusing on Your Property
Market analysis, positioning and pricing strategy
Positioning
What we know about your property
How much is a 30-inch oil painting worth?
Estimating the market value of a home in our area is a subjective process. Using quantitative comparison is a reasonable place to begin using the size of your property and home, but that usually only gets us to a general range in value. The real work comes in comparing the subjective elements of your home to homes currently available and recently sold. This is one of the most troubling issues for buyers coming here from other communities. They usually rely on the rule that 'size equals value' and are confused when a smaller home sells for more than larger homes. After more than 30 years of touring the homes in our community and listening to the comments from such a large segment of buyers, Harry will have the experience to explain how your home compares among recent homes sold and those now on the market so you know how to position your home to best meet your objective.